Our Favorite Recipes: Better than Christmas Chex Mix
It is impossible to stop snacking on this sweet and salty mix Christmas Chex Mix from our Senior Account Manager, Jamie! Make a big batch before your holiday guests arrive and we are sure they'll keep coming back for more!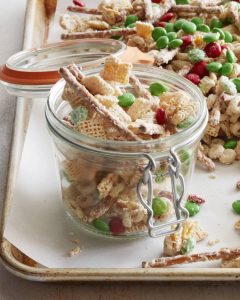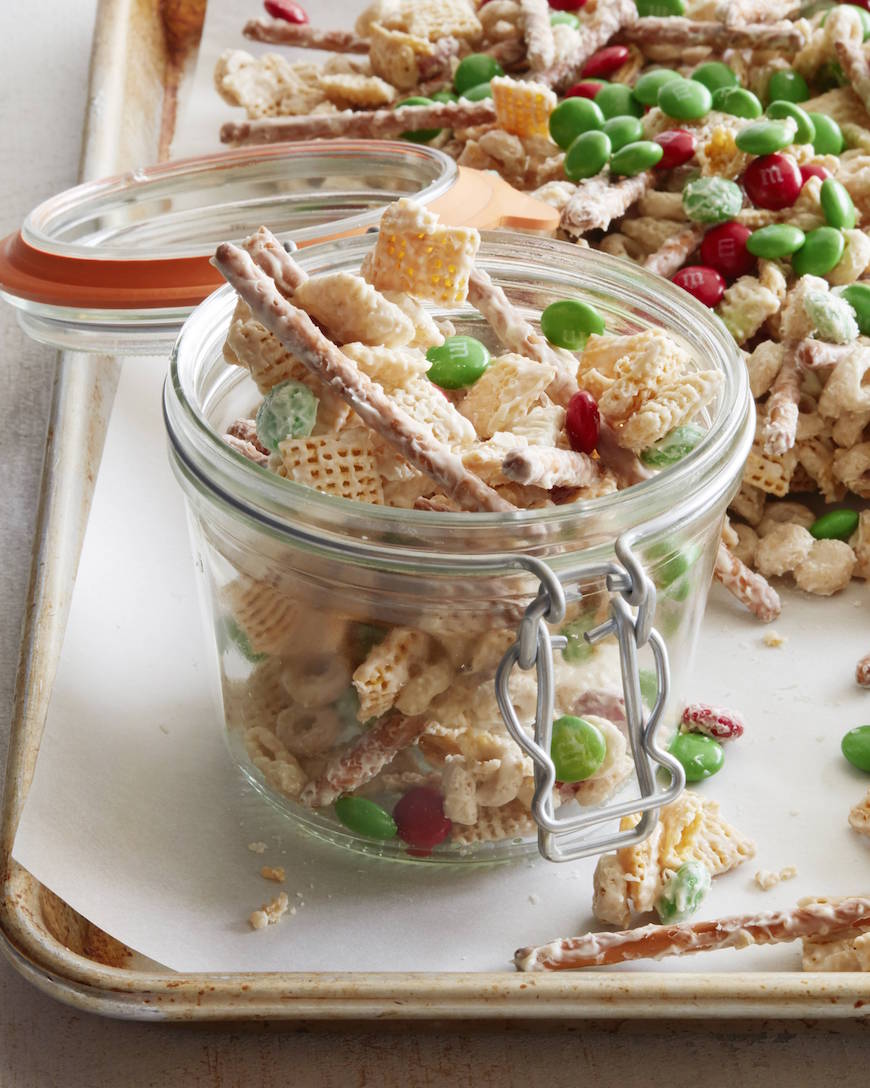 Ingredients
8 cups chocolate Chex cereal
3/4 cup packed brown sugar
6 Tbsp butter
3 Tbsp light corn syrup
1/4 tsp baking soda
1 cup mini Reeses peanut butter cups
1/2 cup caramel bits
1 Tbsp heavy cream
1/2 cup milk chocolate chips
1/2 cup white chocolate chips
1 tsp coarse sea salt
Instructions
1. Pour measured cereal into a large microwaveable bowl.
2. Line cookie sheet with waxed paper.
3. In a 2 cup microwaveable measuring cup, microwave brown sugar, butter and corn syrup uncovered for 1 to 2 minutes, stirring after 1 minute until melted and smooth.  Stir in baking soda until dissolved.
4. Pour caramel mixture over cereal, stirring until evenly coated.  Microwave on high for 3 minutes, stirring every minute.
5. Spread on cookie sheet and let it cool for 10 minutes.  Break into bite-sized pieces but make sure Chex mixture is cool to the touch.
6. Evenly sprinkle mini peanut butter cups candy over Chex mixture.  In a small microwaveable bowl, microwave caramel baking bits and cream uncovered for 1 minute or until chips can be stirred smooth.  Use a fork or spoon to drizzle over Chex mixture.  Repeat with milk chocolate baking chips and again with the white chocolate baking chips.
7. Quickly sprinkle coarse sea salt over the Chex mixture.  Refrigerate until set.  Break apart and store in a tightly covered container.
Recipe adapted from What's Gaby Cooking
Sounds easy and delicious, doesn't it? Let us know if you make this recipe by commenting below!
Looking for more of our favorite recipes? Click here! 
A little more about Holley Insurance…
Holley Insurance was founded in 2000, and retains a core base of loyal clients. We have locations in Roanoke, Rocky Mount, and Forest, VA. Holley Insurance represents a carefully selected group of financially strong, reputable insurance companies. Therefore, we are able to offer you the best coverage at the most competitive price. If you're interested in starting a quote online, click here!