Is your Valentine a chocoholic? They are going to LOVE these fudgy chocolate truffle cookies from Alice!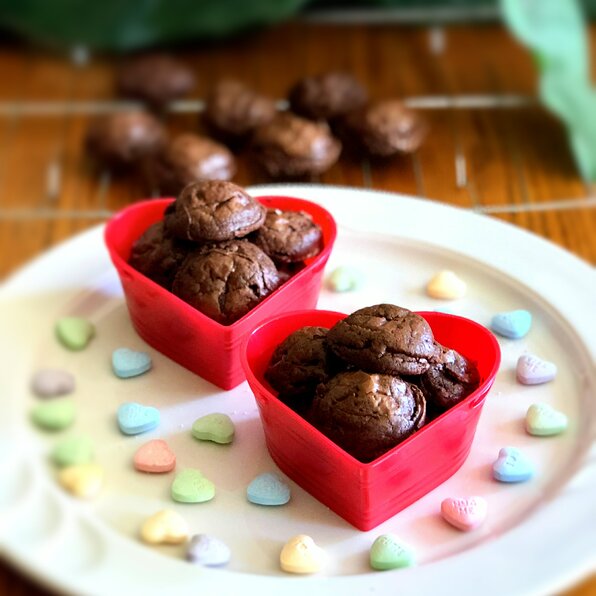 Chocolate Truffle Cookie Ingredients
4 (1 ounce) squares of unsweetened chocolate, chopped
1 cup semisweet chocolate chips
6 tablespoons butter
3 eggs
1 cup while sugar
1 1/2 teaspoons vanilla extract
1/2 cup all-purpose flour
2 tablespoons unsweetened cocoa powder
1/4 teaspoon baking powder
1/4 teaspoon salt
1 cup semisweet chocolate chip
Instructions
1. In the microwave or in a metal bowl over a pan of simmering water, melt unsweetened chocolate, 1 cup of the chocolate chips, and the butter stirring occasionally until smooth. Remove from heat and set aside to cool. In a large bowl, whip eggs and sugar until thick and pale, about 2 minutes. Stir in the vanilla and the chocolate mixture until well mixed. Combine the flour, cocoa, baking powder and salt; gradually stir into the chocolate mixture. Fold in remaining 1 cup chocolate chips. Cover dough and chill for at least an hour or overnight.
2. Preheat oven to 350 degrees F (175 degrees C). Roll chilled dough into 1 inch balls. Place on ungreased cookie sheets so they are 2 inches apart.
3. Bake for 9 to 11 minutes in the preheated oven. Allow cookies to cool on baking sheet for 5 minutes before removing to a wire rack to cool completely.