Does my homeowners insurance cover fallen trees? This is a question we receive pretty frequently, so let's answer it today.
We once had a storm with winds in excess of 70 mph in Virginia. It had done quite a bit of damage. Shingles had been blown off of roofs. Outdoor furniture was blowing all over the place. My grill dinged my daughter's car. I heard houses were even landing on witches. It was CRAZY!
Once the storm subsided, we sang "Somewhere Over The Rainbow" and started to talk about fallen trees. Specifically, how your homeowners insurance responds when a tree goes TIMBERRRRRR!!!!
If a tree falls, here's what you do first.
First thing's first: call your agent or insurance company directly if you think that you may want to file a claim. Just be aware that it may take a little more time than normal for them to complete the claims process due to the sheer number of claims that these events generate.
Most insurance companies will do their best to get to you quickly. However, large storms strain their resources. Most companies have "catastrophe teams" that they will mobilize to help with the glut of new claims, but it takes a little time for them to get up and running.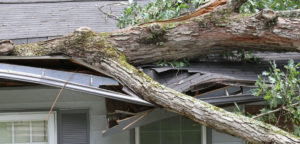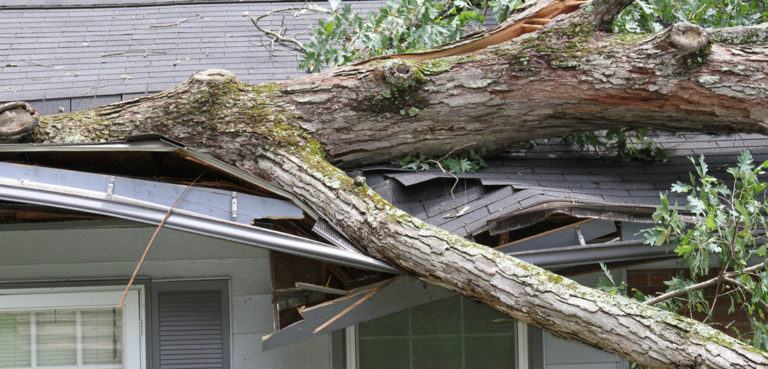 How to Deal with the Damage
In the mean time, if you have a tree on your house and holes in the roof, you don't have to sit there and watch rain fill your home until the adjuster shows up. If you can SAFELY mitigate further damage by temporarily covering holes or applying a tarp, you can do that. Just be sure to document the damage, expenses, and your work.
If you don't have those kinds of skills, you may want to contact a local roofing company or contractor for temporary repairs. Just DON'T commit to a contract to complete the job, ESPECIALLY if the contractor is a sleazy storm chaser from out of the area.
Tips for Spotting a Sleazy Storm Chaser Roofer
If you are interviewing roofing companies, watch out for the following signs:
1. Are they from another state? CHECK
2. Are they using high pressure sales tactics to get you to sign a contract WITHOUT reviewing it with your insurance adjuster? CHECK
3. Did they say that, using their insurance knowledge and Jedi roofing powers, they can get you a whole new roof for FREE? Check
If you've answered any of these questions with a "yes", you got yourself a Sleazy Storm Chaser Roofer.
Watch out! They will lock you down to that contract, fix your roof with nails, glue, and toast, and skip town before any issues arise.
OK, they don't really use toast. But you get the point. Don't use these guys. Find a reputable LOCAL roofer that will be around should issues arise and don't EVER sign a contract until you know how your insurance will respond.
Who is responsible for what and does insurance cover fallen trees?
Disclaimer: The examples listed are generalizations. There may be differences in the coverage provided by your actual policy. Please check with your agent for actual coverage provided by your policy… or read your policy.
If a tree is on your house.
So does your homeowners policy cover fallen trees on your house? Your policy will provide coverage to have the tree removed. If the tree caused damage to the house, that damage would be covered as well.
Who's policy is responsible?
We are asked all the time about who's policy is responsible when your tree falls on your neighbor's house, yours or your neighbor's. Generally, the coverage comes from the policy in place where the tree LANDS.
So, if your tree falls on to your neighbor's home, they need to call THEIR insurance carrier, not yours. This is often a sore subject between neighbors, but this is how it works in nearly every instance.
You do not need to pay any amount of the damage for your neighbor. Their policy will respond. They will probably give you the evil eye for a while, though, because they will be out their deductible on account of your tree. Too bad.
The ONLY exception to this that I have ever seen was when the neighbor that owned the tree was shown to have been NEGLIGENT in removing an obviously unhealthy tree. It required prior documentation and letters from an attorney prior to the fall putting them on notice that they have a dead tree and are creating an obvious danger by not taking it down.
I would not count on this approach necessarily holding up in an actual claims scenario, but it might be the nudge that your crappy neighbor needs to take down his dead tree.
Does a deductible apply?
Yes. Your policy deductible DOES apply, just like any other claim.
What if the tree falls in your yard and does not cause any damage? Does my insurance cover fallen trees then?
Consider yourself lucky. You may have some limited amount of coverage for removal of the downed tree, but it will be subject to your policy deductible.
So, get out your chainsaw. You now have firewood. Congratulations.
If you don't have chainsaw skills, look around the neighborhood for a guy that looks like this…
… he can probably help you out.
Have questions about your homeowners policy or need to file a claim from storm damage? We are here to help! Contact us today!