The Holley Insurance Flag Exchange is BACK! Let's paint the town red, white and blue with beautiful new flags.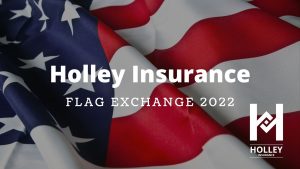 Flag Day is June 14th and we want to honor our flag, those who have served, and our country by doing a flag exchange event.
Flag Exchange Details
Bring us your old, tattered flag and w

e will give you a new replacement. Your old flag will be properly retired.

Don't have a flag? We will give you one to display.

All flags are made in the USA and distributed locally by Gates Flag & Banner. They are high quality, stitched flags that you can be proud to display.

We also have small, hand-held flags for the kids.

Show off your flag. Post pictures to social media with the hashtag #flagsfromholley.

Don't be shy! Our goal is to give away every flag that we have available. 

Supplies are limited and will be distributed on a first come, first serve basis. We will announce when we run out.
There is no purchase necessary.  You don't even have to be a Holley Insurance client, although you probably should be 😉 .
Nothing would make us happier than to see flags all over Rocky Mount, Forest, and Roanoke.  So, please help us spread the word!