If you're an Erie Insurance client, you'll have signed Erie's Subscriber Agreement. Are you confused about what it means? Let us explain.
First, here's what the agreement looks like: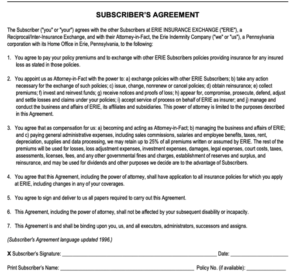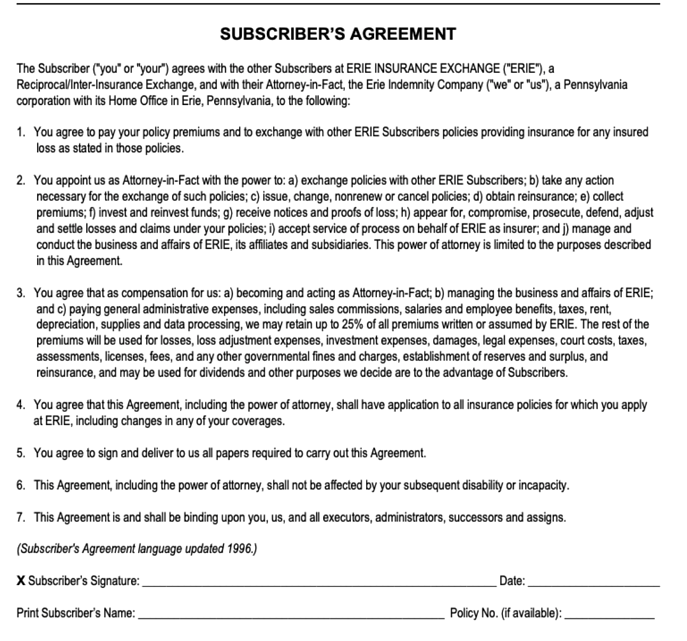 This agreement all has to do with Erie's corporate structure as a reciprocal insurer. But…
What is a reciprocal insurer?
A reciprocal insurer is a type of insurance organization whereby insureds agree to spread their risk among one another (which is pretty much the goal of all forms of insurance). It requires 2 entities, an "Attorney-in-fact" and a "Reciprocal Exchange". 
With Erie's structure, policyholders are referred to as "Subscribers". The "Subscriber's Agreement" is what allows them to place coverage for clients and transact business for them.
So, what are you signing?
*Please keep in mind, this is a generalization. We are not attorneys and do not give legal advice.
Items 1-7 lay out exactly what you and the company agree to, including:
You agree to pay premiums and have those premiums used to pay your claims

as well as

those other subscribers that may have claims.

Erie is allowed to transact standard business such as obtaining and canceling policies, collect premiums, obtain reinsurance, settle claims, invest reserves, etc. 

Erie Insurance Exchange may only keep up to 25% of all premiums for their services. This includes all overhead and other expenses.

This is key and will be addressed further below. 

The agreement applies to all of your Erie policies. 

You will comply with any paperwork required to make the agreement work.

The agreement does not change should you become disabled or incapacitated. 

This applies to you and others (such as executors) should you pass.
Let's dive into Item #3
Item #3 in the agreement is especially important and is also a key reason why Erie's reciprocal approach makes sense and tends to keep insurance rates low. It says that Erie can only take up to 25 cents of every dollar collected by the Exchange for overhead, admin, commission and other expenses. That means that the other 75 cents MUST go toward paying claims. 
This is an especially low expense ratio and gives Erie a competitive advantage over other companies that are not restricted similarly and can dip further into collected premiums for such expenses. This has resulted in Erie having plenty of money in reserve to pay claims and renders them less vulnerable to extreme price swings when large claims events occur.
Is this giving Erie Power-of Attorney?
Signing this agreement DOES NOT give Erie power-of-attorney like you see with families. The rights that you are giving them are limited only to transacting insurance business within the exchange. Nothing more, nothing less. 
These limited powers are spelled out in item #2 in the agreement. It also makes it clear that "The power of attorney is limited to the purposes described in this agreement".
 To sum it up…
Signing this agreement acknowledges that you understand Erie's corporate structure and how they transact business for their policyholders ("subscribers").
If you need more clarification about this agreement, we are here to help! Reach out to your agent and we'll talk you through it. 
Are you a business owner looking for coverage? We can help with that too! Start your online quote here.