Restaurant Insurance Tips From a Restaurant Manager Turned Insurance Agent
What 20+ years of restaurant experience have taught me about restaurant insurance—and how that experience makes me a better agent for you!!
My favorite part of working in a restaurant was being able to interact with such a wide variety of customers. Your regulars become your friends. Eventually, you learn that "large coffee 2 cream" is actually Debbie, who has a pet beagle and 2 grandkids who play soccer.
You form bonds with "hamburger no onion add tomato" and notice when he misses one of his regular visits.
The kid you gave stickers to as a child brings her children in now for a treat. It's a great feeling when you can brighten someone's day by just being kind and giving them a friendly smile.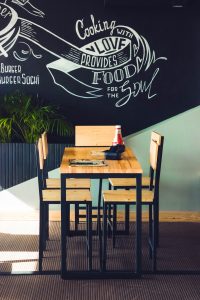 Something we know that those smiling faces on the other side of the counter don't…there is a whole lot of crazy that goes on behind the scenes!!
For those happy experiences to exist, systems have to be in place for scheduling, dealing with vendors, product ordering, receiving deliveries, food safety, health inspections, cleaning, training, enforcing policies and procedures, equipment maintenance, repair companies, ServSafe certifications, handling money, making deposits…oh, and did I mention that 2 employees just called in and it's Friday night and the registers just stopped working…
People not in this industry would think that's way over exaggerated. But I get it. We know that is everyday life running a restaurant. Every. Single. Day. Seriously, I get you! I speak the language. You have enough to deal with, let me handle your restaurant insurance!
General Liability
General liability insurance is critical for any business. Having a strong general liability policy can protect you from the risks that may occur when running your restaurant. If a customer:
slips and falls,

has an allergic reaction,

spills hot coffee on themselves or,

ugh…the most dreaded, gets/claims food poisoning, you can be held liable

If a sign falls and damages someone's car, that cost can fall on you.
Having routines and practices in place for your restaurant will lessen the risks incredibly.
Be Smart
React quickly to spills. Use those wet floor signs for even the smallest of messes. Drill food safety practices to your employees. Treat food safety like it's money, because, well, it is! A foodborne illness outbreak can bankrupt a restaurant. Wash those hands, practice FIFO (first in, first out), when in doubt-throw it out, test temperatures, monitor holding times, clean-clean-clean.
One of the most overlooked practices is just being nice. A customer is less likely to make a big fuss about a minor problem when they consider you a friend. Guess what—being nice is FREE!!! It's the most affordable thing to do. You can't afford not to do it.
Even when your restaurant is practicing the highest of standards, things happen. The part that really stinks is that something doesn't even actually have to happen for you to be impacted. People can sue for pretty much anything. If you go to court, even if you are not found at fault, you are still left dealing with the attorney's fees, as well as the court cost.
Let us at Holley Insurance be here to protect you with our general liability policy, specifically designed for restaurants.
Restaurant Insurance for Equipment Breakdown
Oh, how that makes me shudder!!! The horror…the memories…the nightmares… It never happens on a slow day. Noooo, that would be way too easy to handle. Instead in the middle of your biggest rush of the week—it happens. You hear the loud silence of a non-operating walk-in freezer. The distinct smell of a condenser fan motor that has burnt out. The "ummmmm ALICE, I NEED YOU NOW!!!!!!!" cry from the kid working the grill that is now completely inoperable.
Best case scenario, you have some sort of back up system available. Worse case, you are done.
You can't cook without a grill. You can't serve food that you aren't able to keep refrigerated at a safe temperature. The bills still come in whether you are open or not. You are still out the cost of the product you lost, even though it's now sitting in the dumpster.
Our packages include Income Protection – Actual Loss Sustained, Refrigerated Products (spoilage) as well as TechAdvantage. TechAdvantage is equipment breakdown and technology coverage that protects against losses caused by these increasingly common technology-related failures.
Now gather around for a little story.
Let's say you hired a company to clean your exhaust stacks. (It's super critical that this gets done at least twice a year by the way.) Let's say that said company makes a HUGE mess on your rooftop while cleaning the hoods. HUGE MESS.
Now let's pretend that said company decided to simply squeegee the greasy mess into your rooftop drain. Oh yes, watery, messy, greasy goo simply swept into the closest opening rather than actually taking the time to clean it up properly.
A few days go by then guess what happens?? It starts to rain. A good ole downpour of rain. All that rain gushing into the drain pipe, because hey, that's what the drain pipe is there for right? However, your drain is completely clogged with now congealed grease. All that water piling up in the drain with nowhere to go.
Well, let me tell you, it finds somewhere to go. While you are working all kinds of hard in your restaurant, minding your own business, waiting on customers, talking about the crazy weather, then all of a sudden BAM—-THE PIPE BURSTS!! Which of course is located slap dab in the middle of the kitchen.
Water is EVERYWHERE. Employees are freaking out. People are screaming. Food is ruined. Paper product is ruined. And the mess…oh, the mess…There is no way you will be serving customers for quite some time. You have lost food product, paper product, and income.
Are you covered for that?
Now here is another situation, what happens when you run out of tomatoes? I know I am not the only one who has experienced the emotional meltdown of a grown adult being told they can't add a tomato to their sandwich.
If you haven't, picture a small child having a toy ripped out of their hands, but picture that child as a grown adult. "It's okay sweetie. I have someone getting you a tomato right now. They should be back any second. Don't cry, honey!"
To keep the customer from becoming restless, you send an employee to the store to grab some beloved tomatoes. Do you know that if that employee is in an accident, you can be held liable? What about when your manager takes the deposit to the bank? If they are in an accident, you can be held liable. Accidents happen so quickly. They aren't planned, I mean they aren't called "on purposes" right? Protect yourself by having the right coverage for your needs.
Our help doesn't end with just your general liability insurance. Holley Insurance can also provide coverage for your worker's compensation, commercial auto, and business life insurance. You will have a local agent, who you'll also see often as a customer in your restaurant, there and ready to help you when needed.
Another perk that we offer, is ServSafe certification test proctoring. I am certified through ServSafe as an online testing proctor. Once your employees have completed the online training and are ready for testing, instead of working around another testing company's schedule, you can call me. We can work together to find the perfect time and location to administer their online testing.
Contact us today. Let's set up a time to go over your restaurant insurance needs.
A little more about Holley Insurance…
Holley Insurance was founded in 2000, and retains a core base of loyal clients. We have locations in Roanoke, Rocky Mount, and Forest, VA. As an independent insurance agency, Holley Insurance represents a carefully selected group of financially strong, reputable insurance companies. Therefore, we are able to offer you the best coverage at the most competitive price. If you're interested in starting a quote online, click here!