Shanna's family loved this Mexican Beef and Rice Skillet for dinner so much, she just had to share it! Best of all, it takes just 15 minutes of prep time and is all done in one skillet!
Mexican Beef and Rice Skillet Ingredients
1 tablespoon olive oil
1 large onion chopped
2 cloves garlic minced
1 pound ground beef
1 red pepper diced
1 yellow pepper diced
1 tablespoon tomato paste
1 tablespoon taco seasoning
salt & pepper to taste
1 cup rice (parboiled preferred; see notes)
1.5 cups broth or more if it seems dry
1 jar (16-oz) chunky salsa
1 can (15-oz) black beans
1 cup sweet corn canned OR frozen
Shredded cheese, lime wedges, sour cream, chopped tomatoes, cilantro, avocado, tortilla chips (optional, to serve)
Instructions
Brown meat: Heat the oil in a large skillet over medium-high heat. Add the onion and cook for 2 minutes. Add the garlic and beef and cook until browned. Stir in the diced peppers and cook for 1 more minute.
Add remaining ingredients: Stir in the tomato paste, taco seasoning, salt and pepper. Cook for 1 minute. Add the rice, broth, salsa, black beans and corn and stir well.
Cook: Bring to a simmer, cover the skillet with a lid, reduce the heat and gently cook for around 15 minutes, or until cooked through. Add more broth if necessary.
Serve: Top with shredded cheese and cover for another 2 minutes, if you like. Serve with your favorite toppings.
Note: You'll need to use a parboiled rice that cooks in around 15 minutes for the recipe to cook in the time stated.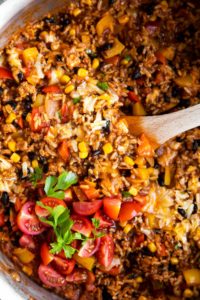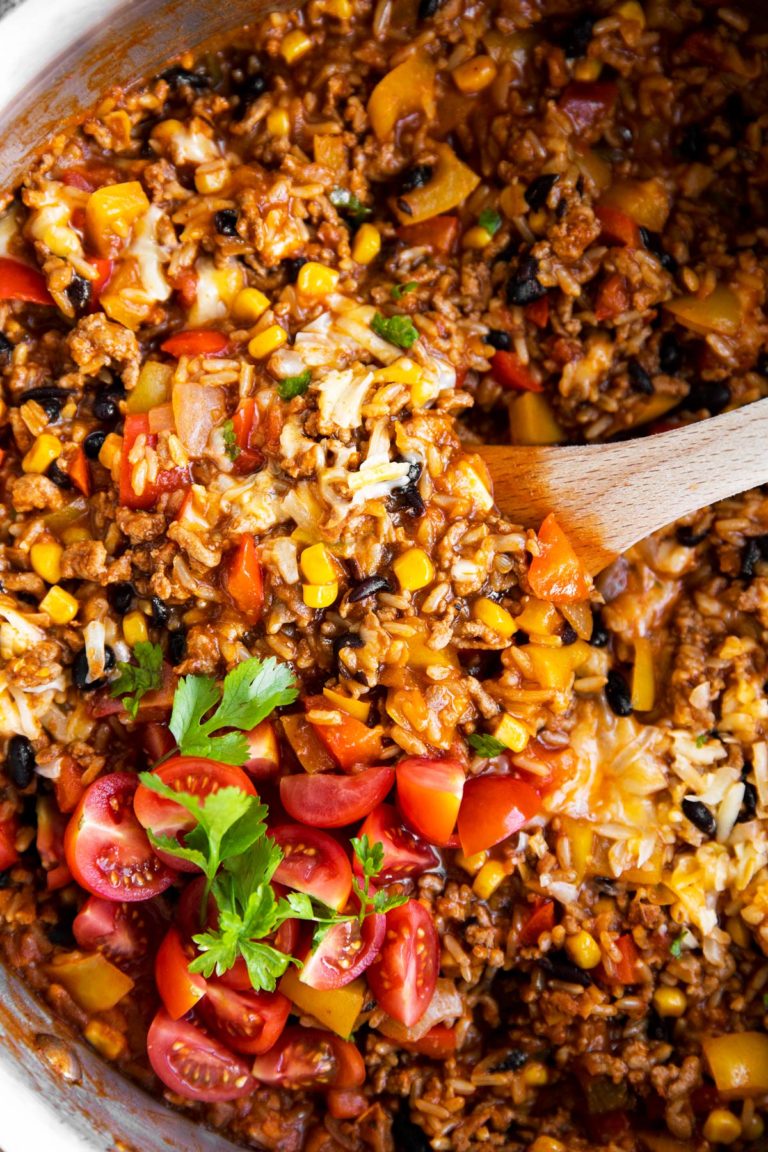 Recipe from Savory Nothings
Want to see some more of our favorite recipes? Click here!