Our Favorite Recipes: Caramel Apple Crisp Cheesecake Bars
September = Apple Season! Slide into fall with these delicious caramel apple crisp cheesecake bars.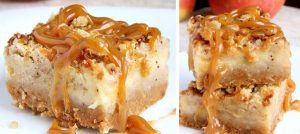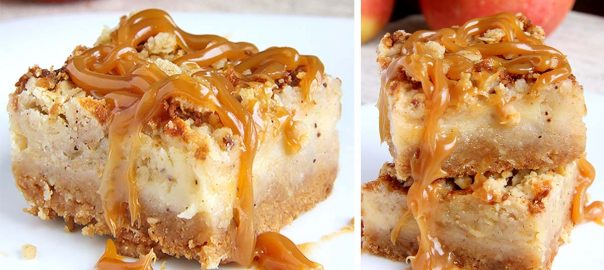 Caramel Apple Crisp Cheesecake Bars Ingredients
For the crust:
1/4 cup brown sugar
1 cup graham cracker crumbs
3/4 cup rolled oats
1/2 cup melted butter, plus more for greasing the plate
Cheesecake Layer :
2 8oz package softened cream cheese
2 tbsp corn starch
1/4 cup brown sugar
1/4 cup white sugar
1/2 tsp ginger
2 tsp vanilla extract
1/2 tsp cinnamon
For the topping:
1/4 cup rolled oats
1/4 cup brown sugar
1/2 tsp cinnamon
2 tbsp coconut oil
2 medium to large apple, peeled and thinly sliced
Caramel Topping
Instructions
 Preheat oven to 305F and prepare one 9×13-inch glass pan by greasing thoroughly with butter or baking spray,
or light-colored metal baking pan with foil,
(be sure to cover the sides, you are going to use this to lift the bars).
In a mixing bowl combine graham cracker crumbs, rolled oats, melted butter and brown sugar together.
Press inside the bottom of a 9×13-inch baking pan.
Bake for 5 minutes. Remove from oven to cool.
Meanwhile in the bowl of your electric mixer blend together cream cheese, brown sugar, white sugar, cinnamon, ginger, cornstarch and vanilla.
Once well combined, pour on top of your graham cracker/oat crust.
To start your apple layer, arrange the thinly sliced apple on top of the cream cheese mixture in a single layer.
Top with the Apple Crisp Topping. Bake at 350F for 40-50 minutes.
Once it's done cooking, cool for 15 minutes, then refrigerate overnight.
Cut into squares. Serve with caramel drizzled over the top of cheesecake bars.
Looking for more of our favorite recipes? Click here! 
A little more about Holley Insurance…
Holley Insurance was founded in 2000, and retains a core base of loyal clients. We have locations in Roanoke, Rocky Mount, and Forest, VA. Holley Insurance represents a carefully selected group of financially strong, reputable insurance companies. Therefore, we are able to offer you the best coverage at the most competitive price. If you're interested in starting a quote online, click here!