If you've had the Asian Sesame Chicken Salad from Panera Bread, you know how delicious it is! This easy copycat recipe tastes just like the real thing – with the convenience of making it yourself!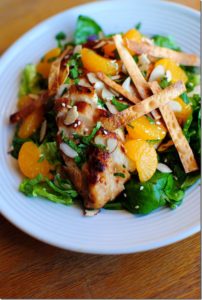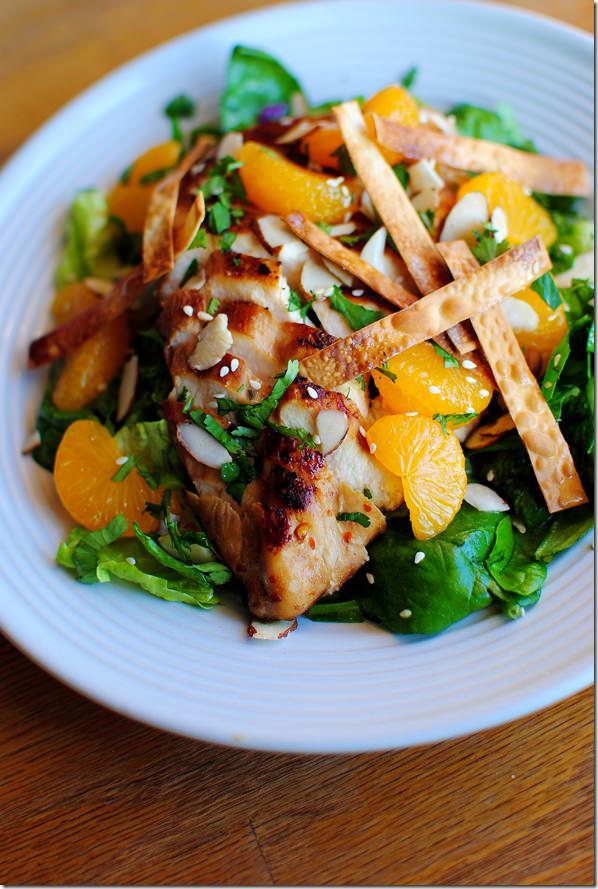 Copycat Panera Asian Sesame Chicken Salad Ingredients
1 bag chopped romaine lettuce
1 bag baby spinach
4 medium chicken breasts
For the chicken marinade:
3 Tablespoons soy sauce or gluten-free Tamari (dish will not be GF if using soy sauce)
2 teaspoons brown sugar
1 teaspoon sesame oil
1/2 teaspoon ground ginger
1/2 teaspoon garlic powder
For the dressing:
1/2 cup rice vinegar
1/4 cup sugar
2 tablespoons canola oil
1-1/2 teaspoons sesame oil
1/2 teaspoon salt
pepper
1/2 teaspoon sesame seeds, toasted in a dry skillet over medium heat until golden brown
Salad toppings:
Chopped cilantro
11oz can mandarin oranges packed in water or 100% juice (rinse in water if packed in syrup)
1/4 cup sliced almonds
Baked or fried wonton strips
Sesame seeds
Instructions
For the chicken: Whisk together chicken marinade ingredients, and marinate chicken for 15 minutes. Grill, or cook in a non-stick sprayed skillet until done, then let the chicken rest for 5 minutes. Cut into slices.
For the dressing: Bring vinegar to a boil in a small saucepan. Turn off the heat, then add in the sugar and stir until dissolved. Let cool. Combine with the rest of the dressing ingredients in a jar, and shake to combine.
Divide lettuce and spinach between four plates. Top with sliced chicken, salad dressing, and toppings. (Add avocado for extra deliciousness!)
Looking for more of our favorite recipes? Click here! 
A little more about Holley Insurance…
Holley Insurance was founded in 2000, and retains a core base of loyal clients. We have locations in Roanoke, Rocky Mount, and Forest, VA. Holley Insurance represents a carefully selected group of financially strong, reputable insurance companies. Therefore, we are able to offer you the best coverage at the most competitive price. If you're interested in starting a quote online, click here!