Alice loves making these sheet pan fajitas as part of her weekly meal prep. She makes chicken and steak fajitas and serves it over rice, tortillas or salad.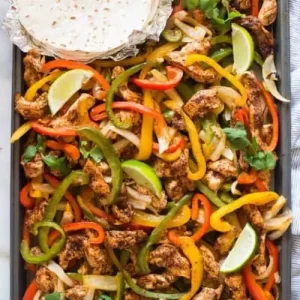 Sheet Pan Fajita Ingredients:
For the meat and veggies:
1 1/2

 

pounds

 

boneless skinless chicken breasts

 

sliced (against the grain) into 1/2-inch thick strips

3

 

bell peppers

 

I use green, yellow and red , cored and sliced into strips

1

 

yellow onion

 

thinly sliced

2

 

cloves

 

garlic

 

, minced

3

 

Tablespoons

 

oil

 

(vegetable or canola oil)

1 lime
1/4 cup fresh cilantro
8-10 small flour tortillas
Desired fajita toppings: sour cream, sliced avocado, guacamole, cheese, salsa
For the seasoning:
1 tablespoon chili powder
1 1/2 teaspoons paprika
1 1/2 teaspoons cumin
1/2 teaspoon onion powder
1/2 teaspoon garlic powder
1/4 teaspoon dried oregano
1/4 teaspoon cayenne pepper
salt and pepper
Sheet Pan Fajitas Instructions:
1. Light grease a large sheet pan with non-stick cooking spray. Cut chicken and vegetables into strips. Lay the vegetables evenly on the pan and place the chicken on top of them.
2. Preheat oven to 425 degrees
3.
Combine seasoning ingredients together in a small bowl. Stir well to combine. Sprinkle most of the seasoning over the chicken, and some of it over the vegetables as well. Spoon minced garlic on top of the chicken and drizzle olive oil over the entire pan. Toss everything well and spread it into an even layer across the pan.
4.
Cook for 15-20 minutes or until chicken is cooked through. Wrap the flour tortillas in foil and place them in the oven to warm during the last 5 minutes of cooking.
5.
Remove everything from the oven. Squeeze fresh lime juice over the chicken and vegetables and sprinkle with cilantro. Serve in warm tortillas with extra toppings, if desired.
Looking for more of our favorite recipes? Click here! 
A little more about Holley Insurance…
Holley Insurance was founded in 2000, and retains a core base of loyal clients. We have locations in Roanoke, Rocky Mount, and Forest, VA. As an independent insurance agency, Holley Insurance represents a carefully selected group of financially strong, reputable insurance companies. Therefore, we are able to offer you the best coverage at the most competitive price.  If you're interested in starting a quote online or having us take a look at your current policies, click here!