Peach cobbler is the perfect end-of-summer dessert. Try Alice's favorite recipe that uses just five simple ingredients! For the ultimate treat on a hot summer day, make sure to add a couple scoops of vanilla ice cream!
Want to make this recipe when peaches are not in season? Try replacing them with blueberries, blackberries, raspberries or all blend of all three to create a delicious triple berry cobbler. Vanilla ice cream still required.
Peach Cobbler Ingredients
1 cup self-rising flour
1 cup white sugar
1/2 cup butter, melted
4 cups sliced peaches
1 tablespoon white sugar, or to taste
Instructions
1.
Preheat oven to 375 degrees. Next, grease an 11×17-inch baking dish with butter or cooking spray.
2.

Whisk milk, flour, and 1 cup sugar together in a bowl until blended; add butter. Stir to combine all ingredients.
3.

Arrange peaches (or berries) in the prepared baking dish and sprinkle with 1 tablespoon sugar. Cover peaches (or berries) with batter, without stirring.
4.
Bake in the preheated oven until browned and bubbling, about 40 minutes.
5. Dish into bowls and top with vanilla ice cream!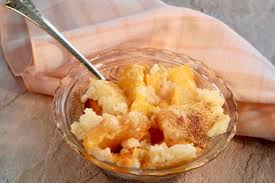 What's your favorite summertime dessert? Comment below and let us know!
Recipe from AllRecipes.