Alice's favorite blueberry muffins are the best way to start your day!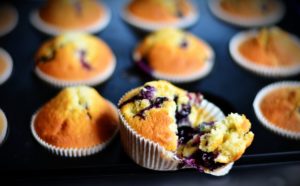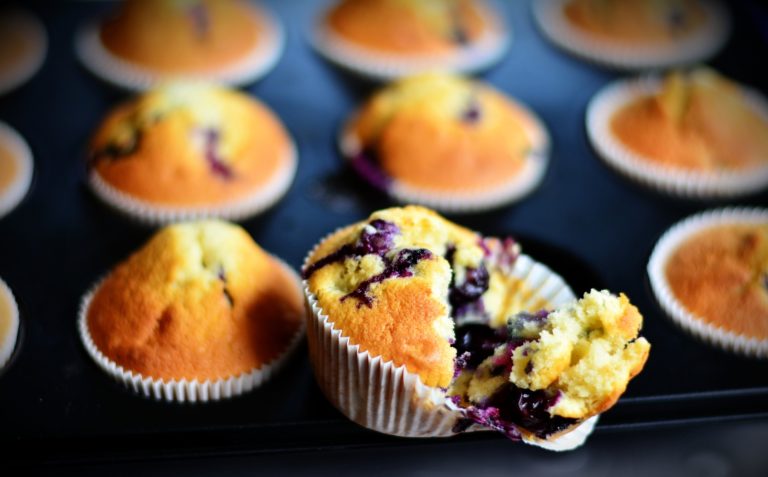 Blueberry Muffins Ingredients
1 1/2 cups all-purpose flour

3/4 cup white sugar

1/2 teaspoon salt

2 teaspoons baking powder

1/3 cup vegetable oil

1 egg

1/3 cup milk, or more as needed

1 cup fresh blueberries
1/2 cup white sugar
1/3 cup all-purpose flour
1/4 cup butter, cubed
1 1/2 teaspoons ground cinnamon
Instructions
Preheat oven to 400 degrees F (200 degrees C). Grease muffin cups or line with muffin liners.

Combine 1 1/2 cups flour, 3/4 cup sugar, salt and baking powder. Place vegetable oil into a 1 cup measuring cup; add the egg and add enough milk to reach the 1-cup mark. Mix this with flour mixture. Fold in blueberries. Fill muffin cups right to the top, and sprinkle with crumb topping mixture.

To Make Crumb Topping: Mix together 1/2 cup sugar, 1/3 cup flour, 1/4 cup butter, and 1 1/2 teaspoons cinnamon. Mix with fork, and sprinkle over muffins before baking.

Bake for 20 to 25 minutes in the preheated oven, or until done.
Recipe from All Recipes
Looking for more of our favorite recipes? Click here! 
A little more about Holley Insurance…
Holley Insurance was founded in 2000, and retains a core base of loyal clients. We have locations in Roanoke, Rocky Mount, and Forest, VA. Holley Insurance represents a carefully selected group of financially strong, reputable insurance companies. Therefore, we are able to offer you the best coverage at the most competitive price. If you're interested in starting a quote online, click here!