5 Common Small Business Cyber Attacks (and how to protect your business)
Want to hear something scary? A cyber security attack happens every 20 seconds. 
Here's something else scary: the average attack costs a business $200,000.
If you're like many small business owners, you might not have an IT professional on staff. What would happen if your business was attacked? Would you have any idea where to start or what to do? Just as important as selling your products and hiring the right staff – understanding how to protect your business from cyber attacks is a critical part of running a company. 
Unfortunately, there are many different types of cyber security threats, but knowing what they are is the first step in protecting your business.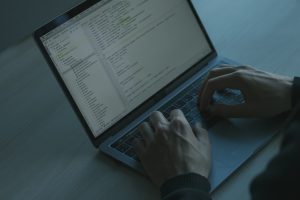 5 Types of Cyber Security Attacks to Watch Out For:
Malware: Malware (or malicious software) is software that is purposely designed to cause damage to the computer, server or computer network. 
Viruses: These are damaging programs that are designed to spread (like a virus) to other connected devices, allowing hackers to get into your systems and cause significant damage.
Ransomware: This is a type of malware that will infect a computer or system until some sort of ransom is paid. Ransomware usually comes through phishing emails. 
Spyware: This type of malware gets into your computer, gathers information, and sends it to someone else, without your consent. 
Phishing: This type of cyber attack that uses email or a bad website to infect your computer. These are especially sneaky because they often look like they are sent from a legitimate contact and ask you to click on a link or open an attachment.
While cyber security insurance cannot protect an attack from happening, it could prevent you from losing everything if an attack were to happen. To put it plainly, all businesses need cyber security insurance.
Erie Insurance's Cyber Suite
If you have business insurance through Erie Insurance, their Cyber Suite coverage provides nine types of coverage to protect your business from common and potentially devastating cyber risks. You can check out everything they cover here.
Cyber Liability Insurance is no longer a luxury for small businesses – it's a necessity. 
Our team of insurance experts are ready to help protect all aspects of your business. Give us a call or start your complimentary business proposal here.
A little more about Holley Insurance…
Holley Insurance was founded in 2000, and retains a core base of loyal clients. We have locations in Roanoke, Rocky Mount, and Forest, VA. As an independent insurance agency, Holley Insurance represents a carefully selected group of financially strong, reputable insurance companies. Therefore, we are able to offer you the best coverage at the most competitive price. Holley Insurance was named "Top Insurance Broker in Southwest Virginia" by Virginia Living Magazine for 2021. If you're interested in starting a quote online or having us take a look at your current policies, click here!