7 Tips to Keep Employees Healthy
Employee physical and mental health is a hot topic lately – which is a good thing! Creating and maintaining a healthy workplace culture where employees know that their employer cares about their well-being is vital to a successful business.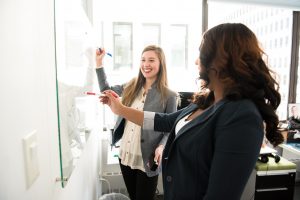 Here are 7 tips for keeping your employees healthy at work:
1.Discourage employees from coming into work sick. In the past, there seemed to be a stigma about staying home sick. "If you could push through it, you should be in the office." In fact, more than 90% of employees admit they go into work when they are sick. However, if a world pandemic has taught us anything, it's that you you really need to stay home when you're sick. But how can you encourage employees to do this? Update your sick day policy to allow for more days and/or the ability to work from home. 
2. Stock your break room and vending machines with healthy options. Gone are the days of potato chips, candy bars and sugary soda in staff refrigerators.Give your employees healthy options that will fuel their brain and keep them alert and productive. Think: fresh fruit, sparkling water, individual packs of hummus and seeded crackers, nuts and popcorn.

3. Make cleaning a no-brainer. Post reminders about cleaning and have supplies readily available to all employees. Encourage employees to disinfect their workspaces daily and designate cleaning captains to clean communal spaces like conference rooms, break rooms and high-touch areas like faucets, door handles and refrigerator doors. 
4. Facilitate a healthy culture. Create a lunchtime walking club or an afterwork coworker movement meet-up group. Sponsor a company 5k team or pay entry fees for your employees to participate in an obstacle course race. Provide your employees with a gym membership. Making it easy for your employees to get some movement into their lives will be worth your investment. 

5. Encourage preventative care. Send out a company-wide email reminding your employees how important it is that they have yearly physicals, screenings and dental and vision appointments. Allow employees to use their lunch break to go to the doctor for these appointments. 
6. Emphasize the importance of mental health. Creating a culture where mental health is just as important as your physical health is important. Normalize taking mental health days just like one would take a sick day. Provide resources to local therapy and mental health specialists. 
7. Get to know your employees. When you are aware of the challenges your employee may be facing at home, and are understanding of their needs, you can play a big role in reducing stress in their lives.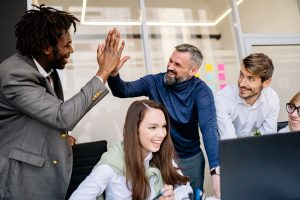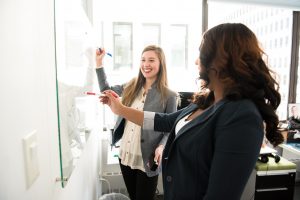 Healthy Employees = Happy Employees = Better Employees
Providing your employees with the tools to be their healthiest is good for them and good for you.
A little more about Holley Insurance…
Holley Insurance was founded in 2000, and retains a core base of loyal clients. We have locations in Roanoke, Rocky Mount, and Forest, VA. As an independent insurance agency, Holley Insurance represents a carefully selected group of financially strong, reputable insurance companies. Therefore, we are able to offer you the best coverage at the most competitive price. Holley Insurance was named "Top Insurance Broker in Southwest Virginia" by Virginia Living Magazine for 2021. If you're interested in starting a quote online or having us take a look at your current policies, click here!