Tips for Writing an Employee Handbook
An employee handbook is a central location for your company information, HR policies and procedures. Establishing an employee handbook gives your current employees and new hires an easy way to understand the practices of your business and learn how your workplace functions – all in one place!
Most employee handbooks are distributed during a new hire orientation. Some employers like to distribute the handbook prior to the new hire's first day, so they have ample time to review company policies and come prepared with questions on their first day. In fact, it's really even a good practice to have all of your employees read and sign a copy of your handbook each year, so you know that everyone is on the same page. Especially if you've made updates. 
So now that we know what an employee handbook is, here's are some tips for creating one.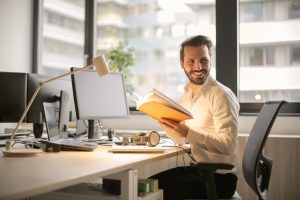 Tips for writing an employee handbook
Include a "welcome" note from you, the business owner. Explain the purpose of the handbook and a little background on the company.

Establish clear "code of conduct" policies that educate employees about how they should act while at the office

and

if they are representing the company outside of the office.

Don't forget to include any necessary legal policies like:

Employer and Employee Confidentiality Agreement,

Non-compete Agreement and/or

At-will Employment

Keep it simple and straightforward, so there's no room for interpretation. Use readable, everyday language that everyone can understand. 

Spell out work hours, break times, parking and security.

When thinking about compensation & benefits, don't forget to include things like workers compensation, educational assistance, and included insurance.

If you haven't updated your employee handbook since 2020, it's a good idea to update it and address how to handle remote work.

It's vital that your handbook include a section on how to report harassment and workplace discrimination. This is a really important section that should be reviewed annually with all employees.

Use visuals and graphics to break up your content and make it easier to understand. 

In our world today, it's important that you have a section on "Acceptable Use". Basically, how employees are able to use company computers and phones. Be sure to include your social media policy.

At the end of the handbook, it's a good idea to include your "Exit Policy". What will happen if an employee leaves the company? Include information about employee termination, exit interviews and how company property will need to be returned.
Employee handbooks should be reviewed once a year. If you haven't taken a look at yours in a while, consider this your sign to do so!
A little more about Holley Insurance…
Holley Insurance was founded in 2000, and retains a core base of loyal clients. We have locations in Roanoke, Rocky Mount, and Forest, VA. As an independent insurance agency, Holley Insurance represents a carefully selected group of financially strong, reputable insurance companies. Therefore, we are able to offer you the best coverage at the most competitive price. Holley Insurance was named "Top Insurance Broker in Southwest Virginia" by Virginia Living Magazine for 2021. If you're interested in starting a quote online or having us take a look at your current policies, click here!