Fall Safety Checklist
Did you know that there are things you should be doing this fall to make your home as safe as possible? Check out the list below and start crossing these to-do's off your list to keep your home and family safe!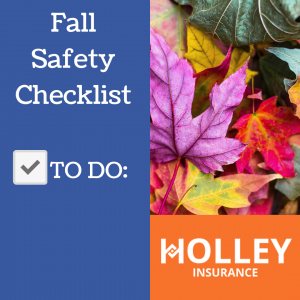 1. Change your home air filter in your HVAC system. Cleaner air means a healthier home.
2. Test smoke and carbon monoxide detectors to make sure they are working properly.
3. Clean out debris from gutters and downspouts to prevent full gutters from sagging or breaking.
4. Thoroughly clean your lawnmower by removing any gas and oil. Prepare for winter storage by hosing down the underside to remove clippings. Now it will be ready for Spring!
5. Fire Safety Awareness month is in October. Create a fire eacape plan with your family so you are prepared in the unexpected event that you'll need to vacate your home.
6. Disconnect all garden hoses and turn off your sprinkler system. Drain remaining water as well as store your hoses inside to prevent freezing during the winter months.
7. Caulk around windows and doorframes to prevent heat from escaping. Plus, you'll save on energy costs!
8. Have fireplaces examined and cleaned by a licensed contractor to prepare it for the winter months, so your fireplace doesn't start a fire!
9. Winterize your pool. Secure safety cover and store chemicals properly. Storing outside in a bin or shed is ok as long as the chemicals remain free of moisture.
10. Reverse your ceiling fans to rotate clockwise, which will push heated air from the ceiling. This might allow you to turn down your thermostat and save on energy.
11. Drain sediment from hot water heaters so it doesn't build up and cause issues later on.
12. Create a winter emergency kit for your car that includes chains, flares, jumper cables, blankets, a flashlight and a first aid kit so that you're prepared for whatever winter storms meet you on the road
A little more about Holley Insurance…
Holley Insurance was founded in 2000, and retains a core base of loyal clients. We have locations in Roanoke, Rocky Mount, and Forest, VA. As an independent insurance agency, Holley Insurance represents a carefully selected group of financially strong, reputable insurance companies. Therefore, we are able to offer you the best coverage at the most competitive price. Holley Insurance was named "Top Insurance Broker in Southwest Virginia" by Virginia Living Magazine for 2021. If you're interested in starting a quote online or having us take a look at your current policies, click here!