What makes Holley Insurance so different from other insurance agencies? Our team reveals what makes up our "secret sauce".
From Shanna Ferguson, Protection Advisor:
Our secret sauce is the team we have. We have experts who also love what they do. It's so rare to find a team who can rely on each other, lean on each other and who all have the same goals in mind – which is to take care of our customers, the best way that we know how.
From Alice Smith, Managing Director:
I think the thing that makes us unique is that we actually care. We truly want to make sure our clients are taken care of and have the exact policies that work well for them. It's not just pushing a button or treating you like a number, we want to make sure your package that you have for your insurance is specially designed for you and your specific needs.
From Melanie Hale, Account Manager:
I think teamwork and team values and passionate customer service that we have. And everyone gets along so well as coworkers.
From Allison McCleary, Marketing Director: 
I think there are a lot of factors that contribute to the secret sauce of Holley Insurance, but the main ingredient being the people who work here. They truly, truly care about their clients and making decisions that are in their best interests.
From Mark Redden, Protection Advisor:
I think the secret sauce of Holley Insurance really is the team and the team approach we have towards our clients.
From Camden Richert, Sr. Account Manager:
We really put a priority on doing what's right, regardless of the bottom line.
From Alexis Dove, Account Manager:
Holley Insurance's secret sauce is compassion. We treat each client like they are a close friend or family member. When they have claims or need help, we do our best to assist them.
From Mary Barry, Protection Advisor:
Personalized service!
From Steve Holley, Owner:
I really think it comes down to the team of people that are here. Our team really takes pride in what they do. They take the idea of being your friend and helping you through tough times with you insurance personally. They really take a lot of pride in what they do.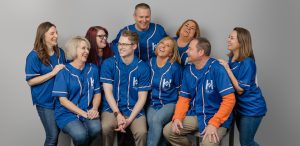 If this all sounds good to you and you'd like to make the switch to Holley Insurance, we'd love to help you. Give us a call (or text) (540) 334-4225 or start your complimentary proposal here.
A little more about Holley Insurance…
Holley Insurance was founded in 2000, and retains a core base of loyal clients. We have locations in Roanoke, Rocky Mount, and Forest, VA. As an independent insurance agency, Holley Insurance represents a carefully selected group of financially strong, reputable insurance companies. Therefore, we are able to offer you the best coverage at the most competitive price. Holley Insurance was named "Top Insurance Broker in Southwest Virginia" by Virginia Living Magazine for 2021. If you're interested in starting a quote online or having us take a look at your current policies, click here!