Cooking breakfast for a crowd? These delicious breakfast sliders make it easy!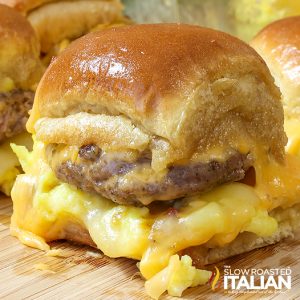 Breakfast Sliders Ingredients
2 (12 ounce) pork sausage rolls
12 Hawaiian dinner rolls
8 large eggs, scrambled
6 slices pepper jack cheese
8 slices American cheese
1/2 cup butter, melted
1/4 cup maple syrup
Breakfast Sliders Instructions
Preheat oven to 350°F.
Warm large skillet over medium heat. Form sausage into 12 patties, slightly larger than one dinner roll. Add sausage to skillet and cook until completely cooked through.
Meanwhile, using a serrated knife, cut rolls in half lengthwise (without breaking apart). Place bottom half of rolls in 7×10-inch or 9×13-inch baking dish; set tops aside.
Scoop scrambled eggs onto bottom rolls; top with pepper jack. Place sausage on top of pepper jack and top with American cheese. Carefully top with top buns.
Combine melted butter and maple syrup in small bowl. Brush over tops of rolls allowing sauce to drip down sides and into bottom. Use entire amount.
Bake 15-20 minutes or until cheese is bubbly and melted. Serve and enjoy!
Looking for more of our favorite recipes? Click here! 
A little more about Holley Insurance…
Holley Insurance was founded in 2000, and retains a core base of loyal clients. We have locations in Roanoke, Rocky Mount, and Forest, VA. As an independent insurance agency, Holley Insurance represents a carefully selected group of financially strong, reputable insurance companies. Therefore, we are able to offer you the best coverage at the most competitive price. Holley Insurance was named "Top Insurance Broker in Southwest Virginia" by Virginia Living Magazine for 2021. If you're interested in starting a quote online or having us take a look at your current policies, click here!