Feeling fancy? Give this Classic Cioppino a try! Mary's husband has perfected this seafood stew that she describes as "soooo good".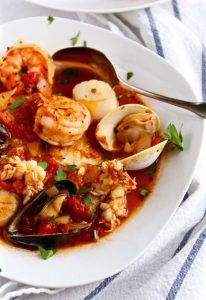 Classic Cioppino Ingredients
4

 

lobster tails

1

 

pound

 

extra large shrimp

 

~ I used black tiger shrimp

2

 

carrots, chopped

2

 

celery ribs, chopped

½

 

yellow onion, diced

2

 

bay leaves

Several sprigs parsley

½

 

teaspoon

 

black peppercorns

Kosher salt

2

 

tablespoons

 

olive oil

2

 

tablespoons

 

butter (I use Kerrygold salted butter, most recipes call for unsalted butter)

2

 

medium yellow onions, chopped

4

 

cloves

 

garlic, finely chopped

½

 

red bell pepper, seeded, chopped

½

 

cup

 

chopped celery

¼

 

cup

 

chopped parsley (I always use flat-leaf parsley, but use what you have)

2

 

bay leaves

1

 

tablespoon

 

dried basil

½

 

teaspoon

 

dried oregano

½

 

dried thyme

½

 

teaspoon

 

crushed red pepper

½

 

teaspoon

 

kosher salt

1

 

tablespoon

 

tomato paste

1

 

cup

 

dry white wine

4

 

cups

 

home made seafood stock, directions below (or two 8-ounce bottles clam juice)

1

 

28-ounce

 

can whole San Marzano tomatoes, crushed by hand

12

 

small little neck clams, scrubbed

1

2

 

mussels, scrubbed and de-bearded

6

 

scallops

1

 

pound

 

firm white fish fillets (halibut, cod or haddock are good choices)

Olive oil
Instructions
Prepare seafood stock. You'll need the shells from the lobster and shrimp for this, reserving the shrimp and lobster meat for later. Bring a large pot of salted water to a boil and prepare an ice bath. Add lobster tails to boiling salted water and cook for 4 minutes. Remove lobster with tongs to ice bath, keep water in the pot simmering on stove. On cutting board, snip down lobster backs with kitchen shears and devein as you would shrimp. Remove shells to a bowl, do not discard. Cut lobster meat into large chunks and refrigerate. Peel and devein shrimp, saving shells in bowl with lobster shells. Refrigerate shrimp.

To the boiling lobster water add lobster shells and shrimp shells, chopped carrots, chopped celery, ½ cup diced onion, 2 bay leaves, parsley sprigs and peppercorns. Cover and simmer for 2 – 3 hours, stirring occasionally until a nice, rich stock has developed. Strain stock and reserve, you want at least 4 cups.

In a large Dutch oven, heat 2 tablespoons olive oil and 2 tablespoons butter over medium heat. Add the 2 chopped onions, garlic, red pepper, celery and chopped parsley. Sprinkle with salt and sauté until softened, about 5 or 6 minutes.

Add the bay leaves, basil, oregano, thyme, crushed red pepper, salt and tomato paste. Stir to combine well and fragrant. Add the wine and boil and stir for about 4 – 5 minutes until reduced by half.

Add 4 cups of the reserved seafood stock and the hand-crushed tomatoes and their juices to the pot. Stir and bring to a boil and then simmer for 30 minutes to one hour to develop the broth. (If you didn't make the seafood stock, this is where you could add 2 bottles of clam juice instead.) This stock/broth can be made ahead of time and refrigerated for up to 2 days.

Add the clams, discarding any that are open. Cover and cook at a steady simmer for 5 minutes.

Meanwhile, heat a large skillet over medium heat and drizzle with olive oil. Dry cod and scallops and sprinkle with salt and pepper. Add the cod and scallops to the pan and sear cod for 5 minutes undisturbed. Carefully flip cod and scallops and add a few ladles of broth mixture to the pan to finish cooking.

Back to the pot with the clams, carefully stir in the mussels, lobster meat and shrimp. Cover and simmer for about 5 – 7 minutes until just cooked through and clams and mussels have opened (discard any unopened clams or mussels). Remove bay leaves and taste for salt.

In shallow bowls, place a portion of cod and scallops and ladle the seafood stew over the top. Sprinkle with some chopped parsley and serve immediately with warm crusty sourdough bread. Enjoy!
Looking for more of our favorite recipes? Click here! 
A little more about Holley Insurance…
Holley Insurance was founded in 2000, and retains a core base of loyal clients. We have locations in Roanoke, Rocky Mount, and Forest, VA. As an independent insurance agency, Holley Insurance represents a carefully selected group of financially strong, reputable insurance companies. Therefore, we are able to offer you the best coverage at the most competitive price. Holley Insurance was named "Top Insurance Broker in Southwest Virginia" by Virginia Living Magazine for 2021. If you're interested in starting a quote online or having us take a look at your current policies, click here!