Celebrate St. Patrick's Day with homemade Shamrock Shakes! The whole family is going to love these. Make them your new St. Patrick's Day tradition!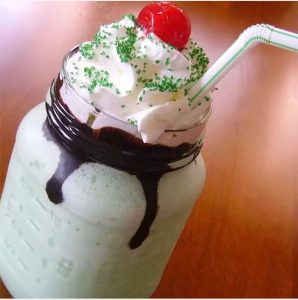 Homemade Shamrock Shake Ingredients
1 1/4 cups milk
1/4 teaspoon mint extract (or more to taste)
9 drops green food coloring
2 tablespoons chocolate syrup (or really, as much as you want!)
2 tablespoons whipped cream (or also, as much as you want!)
Homemade Shamrock Shake Instructions
Blend ice cream, milk, mint extract, and food coloring together in a blender until smooth.
Drizzle chocolate syrup around the inside walls of 2 tall glasses. Pour shake into glass. Top with whipped cream.
Looking for more of our favorite recipes? Click here! 
A little more about Holley Insurance…
Holley Insurance was founded in 2000, and retains a core base of loyal clients. We have locations in Roanoke, Rocky Mount, and Forest, VA. As an independent insurance agency, Holley Insurance represents a carefully selected group of financially strong, reputable insurance companies. Therefore, we are able to offer you the best coverage at the most competitive price. Holley Insurance was named "Top Insurance Broker in Southwest Virginia" by Virginia Living Magazine for 2021. If you're interested in starting a quote online or having us take a look at your current policies, click here!