Did your pipes burst in the freezing weather? Here's what you need to do to mitigate the damage.
When cold weather hits, many homeowners are dealing with broken pipes – leaving restoration companies and plumbers backed up. A burst pipe can cause thousands of dollars in damage, and the longer that water sits in your house, the worse it's going to be. While you patiently wait for your plumber or restoration company to get to your home, here's what you can do to mitigate the damage.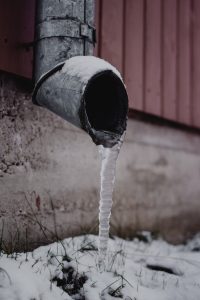 Use a wet/dry vac to get rid of the standing water. Fast clean up ensures that mold and mildew aren't able to grow.
Turn on the heat to encourage quicker drying and slow warming of the pipes.
Keep the doors open throughout your home to get air flow moving.
Remove any items from the space that are wet and bring them to a warm, dry place to air out.
Use a dehumidifyer and fans to to dry out the room.
Once the space is as dry as possible, you'll want to take inventory of any damaged items. Make a list of any damaged property and items and document with photos. Make sure you save any receipts for expense repair. If you happen to have work completed before your claim is approved, it is a good idea to keep the damaged parts and document the work that was done via photographs and estimates/bills. Contact your insurance agent directly to start the claims process.
If you're a client of Holley Insurance and you have damage because of a burst pipe, give us a call or text us at 540.334.4225.
A little more about Holley Insurance…
Holley Insurance was founded in 2000, and retains a core base of loyal clients. We have locations in Roanoke, Rocky Mount, and Forest, VA. As an independent insurance agency, Holley Insurance represents a carefully selected group of financially strong, reputable insurance companies. Therefore, we are able to offer you the best coverage at the most competitive price. Holley Insurance was named "Top Insurance Broker in Southwest Virginia" by Virginia Living Magazine for 2021. If you're interested in starting a quote online or having us take a look at your current policies, click here!