For every life insurance quote we complete from March 29th through April 15th, we'll be donating socks to our neighbors in need through our Socks 4 Life campaign!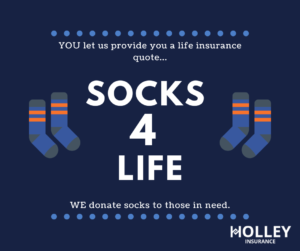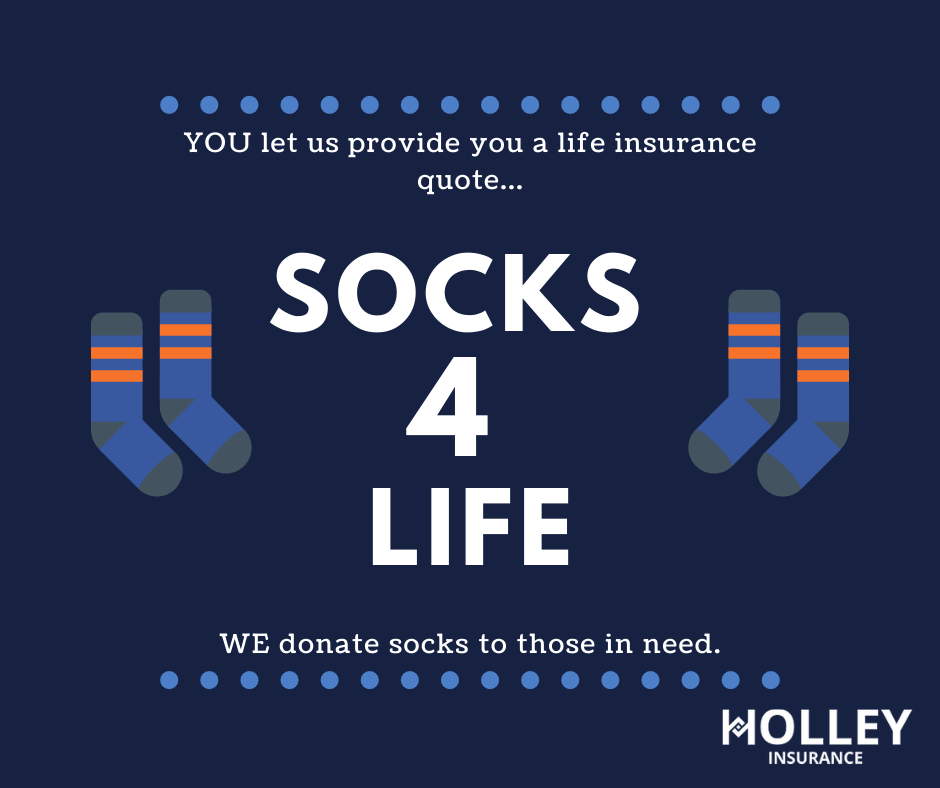 Life Insurance Quote for You = Warm Socks for Neighbors in Need
Have you been thinking about securing a life insurance policy for you and your family? Now is the perfect time to do it! If you let us provide you with a life insurance quote between March 29th-April 15th, we'll donate socks to those in need. 
Life insurance is more affordable than you think! In fact, a $250,000 life insurance policy can cost you as little as $14 per month. Don't let another day go by without providing your family the protection they deserve. Let us prove to you that a proper life insurance policy isn't expensive.
We've got 4 quick, easy-to-understand financial benefits of having a proper life insurance policy in place NOW:
Life 

insurance

 can help cover the cost of final expenses (think: funeral costs and probate expenses).
If health 

insurance

 did not cover all of the final medical expenses, life 

insurance

 can pay the rest.
Life 

insurance

 can pay for any outstanding debts of the deceased, like their mortgage.
If your head-of-household dies, life 

insurance

 can replace the income that they would have been making and help your family maintain their standard of living.
And these are just some of the benefits!
We know that life insurance can seem confusing. And there's not just one type of policy to choose from! So how do you know which life insurance type is right for you? Let us help! Start your quote here (or call us at 540.334.4225) and we'll walk you through your options.
We care about YOU and we care about our community. Let's come together to protect both! 
Be sure to follow us on Facebook to see how many socks we are able to donate to local organizations!
Get Your Life Insurance Quote Today!
Fill out our online quote form or give us a call at 540-334-4225
PS: Think you are too young for a life insurance policy? Think again! Check out our top reasons why you don't want to wait until you are 40 years old to purchase a life insurance policy.