Our Holley Insurance service model has been set up with you, our clients, in mind. Our ultimate goal is to provide our clients with options that work best for YOU when you need service done on your insurance policies (or when you are ready to shop for a new one!). And we want to make it easy on you!
Over our 19 years in business, we have found that the traditional business model of having just one agent or one account manager assigned to each client is limiting for our clients and often results in clients waiting unnecessarily for basic service. We also feel that relationships between our staff and clients are essential to the overall client experience. With these two things in mind, we created  a different kind of service model. One that puts you, the client, first.
Our service model maximizes the number of connections that clients have for service by connecting them with their Agent/Protection Advisor, our team of Account Managers (all 3 of them), and the Owner. As our client, you have absolute support from any of these team members, whenever you need it! Please be assured that whoever you reach out to at Holley, they are going to be happy to help.
Let's take a look at our service model and how it makes Holley Insurance different from other insurance agencies!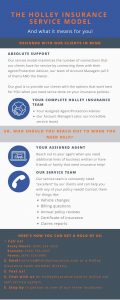 As you can see, making insurance easy on our clients is incredibly important to us. All you need to do is reach out to us (in whichever method you prefer) and we'll do all of the hard work. That's our promise to you. Call, email, chat, text…we are here!
Ready to get a hold of a team member at Holley Insurance? Click here!