Beginning January 1, 2022, the miniumum Virginia auto insurance coverage required by law is increasing. These changes apply to auto insurance policies issued or renewed after January 1, 2022. Additional increases will occur in 2025.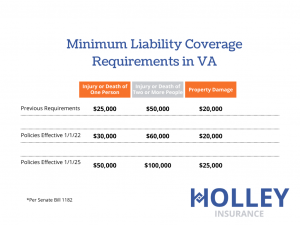 Drivers caught driving without the proper level of insurance will have their driving and vehicle registration priveledges suspended. Don't let this happen to you! If you are worried that you have state minimum coverage that may no longer meet the new requirements, now is the time to have your insurance agent take a look at your policy. 
Even though we are happy to see state minimum coverages increase slightly, it's still not enough coverage for the world that we are living in. 
Have you taken a look at new car prices lately?  Will $20,000 cover the cost of that new SUV that you just hit? Not to mention the cost to repair the guardrail, traffic pole/signs, fencing, landscaping and any other property that was damaged. $30,000 in medical expenses for someone that you hit can accumulate incredibly quick for a big injury. 
Even though the state only requires a certain amount of coverage, please do not put yourself in a position where you could be responsible for the excess expenses that come from an accident. Saving money is not worth not having the proper coverage. 
Still not convinced that the miniumum Virginia auto insurance coverage is not enough? Check out what Alice has to say:
Can we see if we can get you proper coverage at a better price?
Start your auto insurance quote here!
A little more about Holley Insurance…
Holley Insurance was founded in 2000, and retains a core base of loyal clients. We have locations in Roanoke, Rocky Mount, and Forest, VA. As an independent insurance agency, Holley Insurance represents a carefully selected group of financially strong, reputable insurance companies. Therefore, we are able to offer you the best coverage at the most competitive price. Holley Insurance was named "Top Insurance Broker in Southwest Virginia" by Virginia Living Magazine for 2021. If you're interested in starting a quote online or having us take a look at your current policies, click here!