As we've been reminded this week, snow in Virginia can be sudden and unpredictable. Prepare yourself for driving in snowy conditions with these five tips. 

5 Tips for Driving in Snowy Conditions
Anticipate what to do next.

Always be prepared for what's ahead of you. The more slippery the road is, the farther down the road you should be looking and preparing. Remember to give yourself ample stopping distance in hazardous conditions.

Car and Driver

says that you should give yourself "double the stopping distance when the road is wet, triple on snow, and even more on ice". 

Take it slow and smooth.

We all know that we need to drive slowly when the roads are hazardous, but it's also incredibly important to drive smoothly. Jerky movements with your steering wheel or breaks cause your car to slip.

Look where you want to go.

If you do start to slide, it is important that you look where you want to go, not where your car is actually going. This is a trick to get you back on track. 

Drive with your lights on – even in the day.

Winter conditions reduce visibility It's a good idea to have them on even if it's not actively snowing, just as an extra safety measure.

Don't do it.

Unless you absolutely have to, it's best just to not attempt to drive when the roads are hazardous.Staying off the wintery roads is the absolute best way to ensure that you and your family are safe when it snows. 
Remember these tips the next time you need to drive in wintery conditions. And remember, if you happen to get in an accident, there are a couple of things your agent wants you to know about having an insurance claim.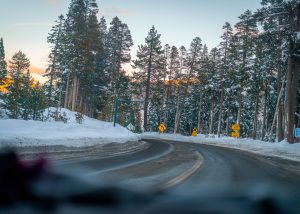 A little more about Holley Insurance…
Holley Insurance was founded in 2000, and retains a core base of loyal clients. We have locations in Roanoke, Rocky Mount, and Forest, VA. As an independent insurance agency, Holley Insurance represents a carefully selected group of financially strong, reputable insurance companies. Therefore, we are able to offer you the best coverage at the most competitive price. Holley Insurance was named "Top Insurance Broker in Southwest Virginia" by Virginia Living Magazine for 2021. If you're interested in starting a quote online or having us take a look at your current policies, click here!