Nothing will shock a jolt to your system quite like hitting a deer. You feel horrible, there's damage to your vehicle and let's face it…it's a scary experience.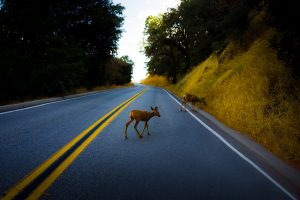 Here's what to do if you hit a deer. 
Move your car to a safe area.

It's incredibly important to make sure that your car is not in the way of traffic. If you can, move your car to a safe spot. If you are unable to move your car, make sure you and your passengers are out of harm's way. 

Turn on your hazard lights.

This lets other drivers see you and know that there is a problem. 

Call 911.

You'll want to report the incident and let them know that you have hit the deer. You'll want to mention if the deer is in the road and if anyone you are with needs an ambulance. 

Document it.

Take photos and/or videos of any damage. It's a good idea to take a picture of the deer too. 

Call your insurance agent, not your carrier. Your insurance agent will advise you if its a good idea to file a claim or not. They should be your first call before calling your carrier. (Questions about filing a claim? Check this out.)
Remember: Deer travel in heards. If you see one, there is probably another approaching. Slow down but don't swerve. For more tips about how to avoid hitting a deer, check out this great article from our partners at Erie Insurance.
A little more about Holley Insurance…
Holley Insurance was founded in 2000, and retains a core base of loyal clients. We have locations in Roanoke, Rocky Mount, and Forest, VA. As an independent insurance agency, Holley Insurance represents a carefully selected group of financially strong, reputable insurance companies. Therefore, we are able to offer you the best coverage at the most competitive price. Holley Insurance was named "Top Insurance Broker in Southwest Virginia" by Virginia Living Magazine for 2021. If you're interested in starting a quote online or having us take a look at your current policies, click here!