Full List of Insurance Policies Through Holley Insurance

Below is our full list of insurance policies that are available to Holley Insurance clients. From auto, home, life, business policies and beyond, you might be surprised that Holley Insurance has a policy to cover everything that's important to you + some risks that you might not even realize you are exposed to!
Have a collector car? We have a policy for that. Own a rental property? We have insurance for that! Expensive equipment or collectables? Yep, we have insurance for that…and so much more!
From general liability insurance to commercial liability insurance, workers comp and commercial auto insurance, we have tons of policies to protect the businesses that owners have worked so hard to build. We even have policies for specific types of businesses, like restaurants, garages, farms hotels, manufacturers and non-profits. If you have a business, we have an insurance policy to protect it.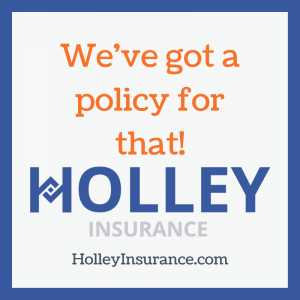 Personal Insurance Policies Offered by Holley Insurance
Click the link to learn more about the policy types below.
Boat Insurance
Condo Insurance
Flood Insurance
High Net Worth Insurance
Homeowners Insurance
Motorcycle Insurance
Renters Insurance
Powersports Insurance
Collector Car Insurance
Rental Property Insurance
Personal Umbrella Insurance
Mobile Home Insurance
Valuable Items Insurance
Life Insurance
Commercial Insurance Policies Offered by Holley Insurance
Click the link to learn more about the policy types below.
Surety Bonds
Builders Risk Insurance
Business Owners Package
Business Interruption Insurance
Cargo Insurance
Commercial Auto Insurance
Commercial Business Property Insurance
Commercial Trucking Insurance
Commercial Umbrella Insurance
Contractors General Liability Insurance
Directors and Officers Liability Insurance
Employment Practices Liability Insurance
Garage Insurance
General Liability Insurance
Hotel Motel Hospitality Insurance
Key Person Employee Insurance
Liquor Liability Insurance
Manufacturers Insurance
Non Profit Insurance
Product Liability Insurance
Restaurant and Bar Insurance
Technology Insurance
Farm Insurance
Wholesaler and Distributor Insurance
Workers Compensation Insurance
PLUS we have a bunch of policies you and quote, issue and bind right online yourself through Holley Direct!
A little more about Holley Insurance…
Holley Insurance was founded in 2000, and retains a core base of loyal clients. We have locations in Roanoke, Rocky Mount, and Forest, VA. As an independent insurance agency, Holley Insurance represents a carefully selected group of financially strong, reputable insurance companies. Therefore, we are able to offer you the best coverage at the most competitive price. Holley Insurance was named "Top Insurance Broker in Southwest Virginia" by Virginia Living Magazine for 2021. If you're interested in starting a quote online or having us take a look at your current policies, click here!